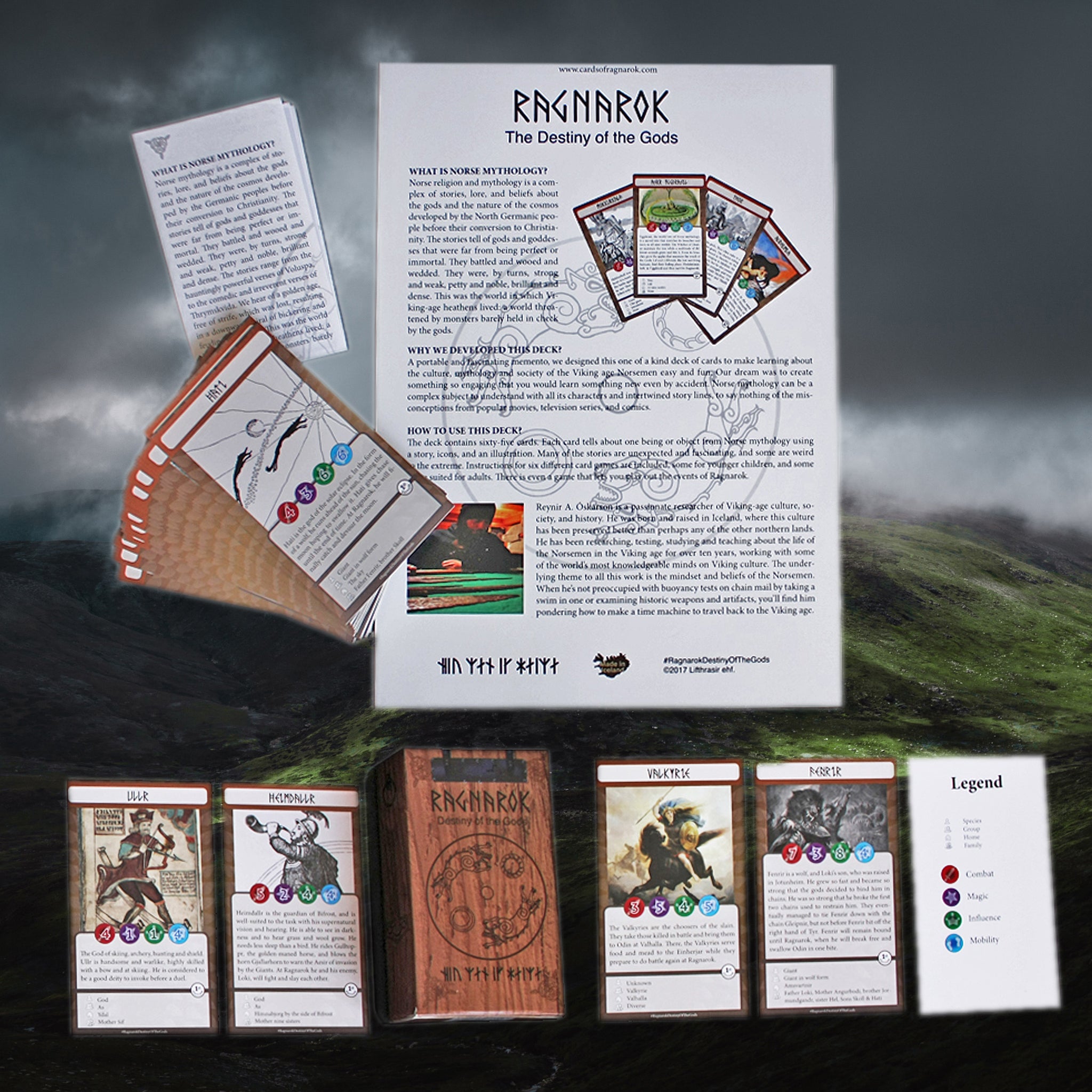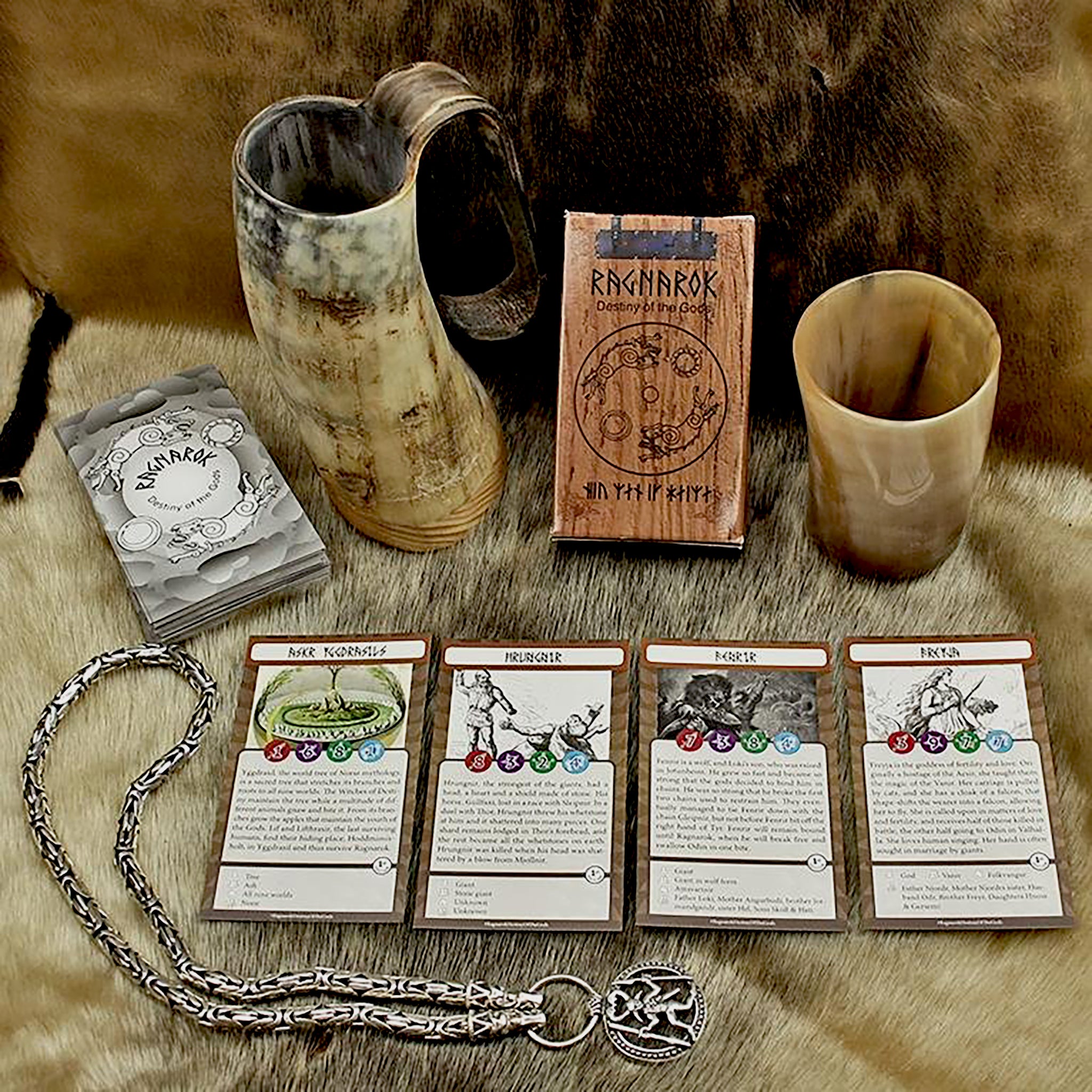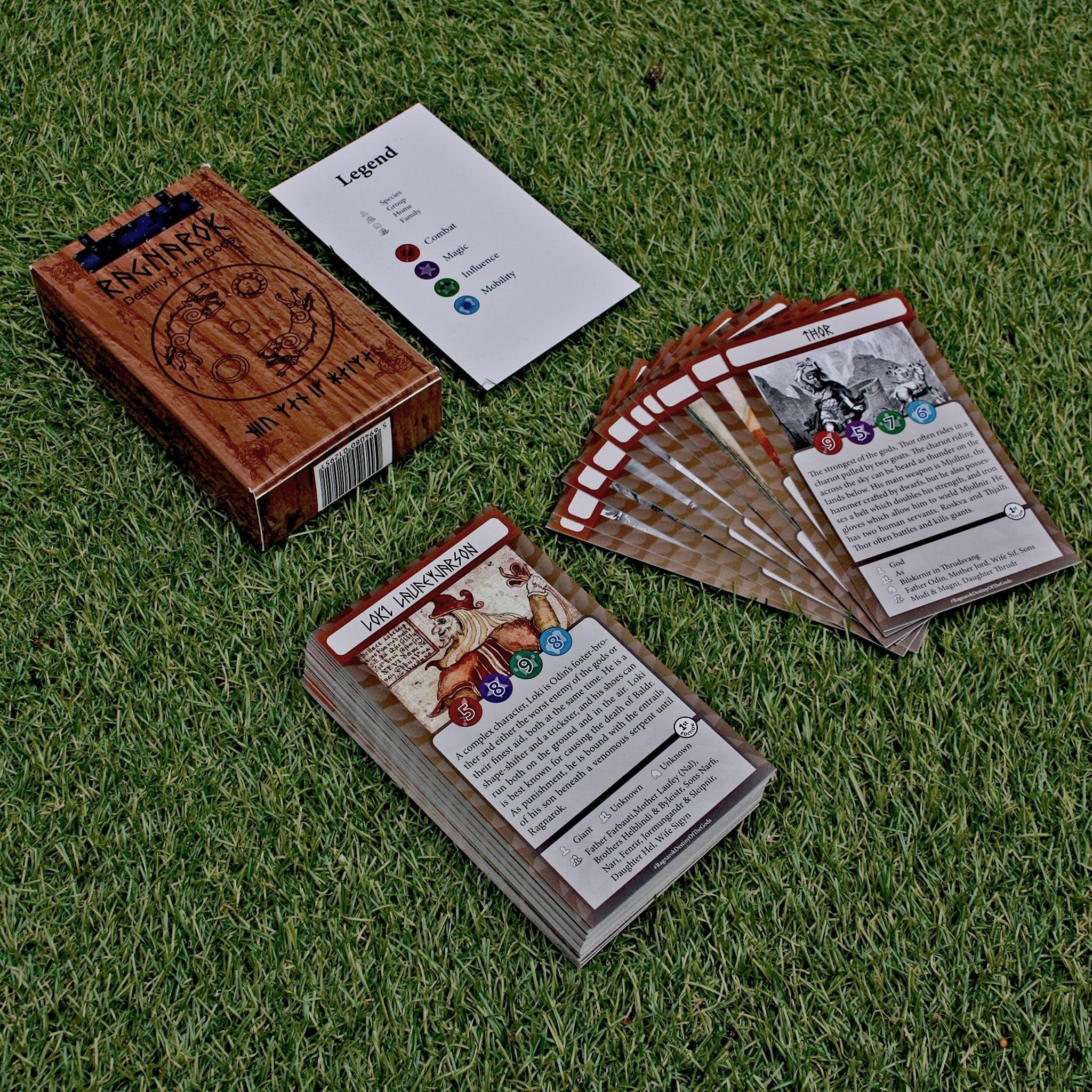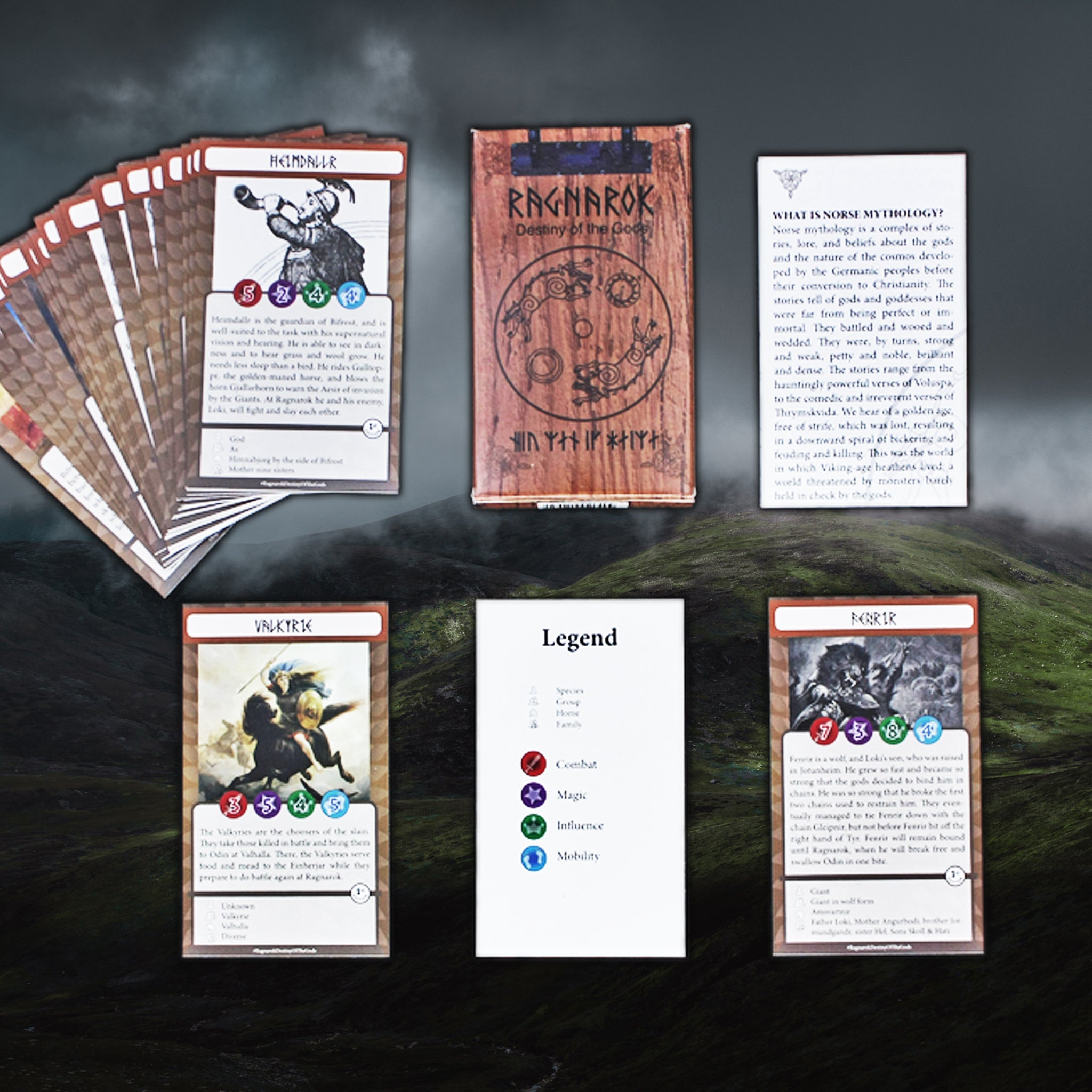 Ragnarok Destiny of the Gods - Norse Mythology Card Game
Pickup available at Tower House
Usually ready in 24 hours
Ragnarok Destiny of the Gods - Norse Mythology Card Game
Tower House
Pickup available, usually ready in 24 hours
Tower House Business Centre, Fishergate
Jelling Dragon Ltd
York YO10 4UA
United Kingdom
+447892872688
Ragnarok - Destiny of the Gods Viking Card Game.
A deck of 65 cards displaying Norse gods and mythology to play for fun and to learn about some of the myths, legends & gods surrounding Norse folklore & religion.
Icelandic card game with rules.
- 65 illustrated playing cards with rules & descriptions.
- Each card shows one of the beings from Norse mythology.
- Each description also includes their strengths, weaknesses & their story.
- Rules for 6 separate card games - from simple children's games, to more complex adult games.
- Can be played by 2 to 99 players and suitable for all ages.
- You can even play out Ragnarok!
WHAT IS NORSE MYTHOLOGY?
Norse religion and mythology is a combination of stories, folklore, and beliefs about the gods and the nature of the cosmos, which was developed by the North Germanic people before their conversion to Christianity. The stories tell of gods and goddesses that were far from being perfect or immortal. They battled, wooed and wedded. They were, by turn, strong and weak, petty and noble, brilliant and dense. This was the world in which Viking- age heathens lived: a world threatened by monsters barely held in check by the gods.
WHY WAS THIS GAME DEVELOPED?
A portable and fascinating memento, we designed this one of a kind deck of cards to make learning about the culture, mythology and society of the Viking age Norsemen easy and fun. Our dream was to create something so engaging that you would learn something new even by accident. Norse mythology can be a complex subject to understand with all its characters and intertwined story lines, to say nothing of the misconceptions from popular movies, television series, and comics.
HOW TO USE THIS DECK?
The deck contains sixty-five cards. Each card tells about one being or object from Norse mythology using a story, icons, and an illustration. Many of the stories are unexpected and fascinating, and some are weird to the extreme. Instructions for six different card games are included, some for younger children, and some more suited for adults. There is even a game that lets you play out the events of Ragnarok!
ABOUT THE CREATOR
Reynir A. Óskarson is a passionate researcher of Viking-age culture, society and history. He was born and raised in Iceland, where this culture has been preserved better than perhaps any of the other northern lands. He has been researching, testing, studying and teaching about the life of the Norsemen in the Viking age for over ten years, working with some of the world's most knowledgeable minds on Viking culture. The underlying theme to all this work is the mindset and beliefs of the Norsemen. When he's not preoccupied with buoyancy tests on chainmail by taking a swim in one or examining historic weapons and artifacts, you'll find him pondering how to make a time machine to travel back to the Viking age.
Shipping Costs & Shipping Times from The Viking Dragon.
Shipping Costs?
All of our shipping costs are based on the weight and the size of your package and are calculated on the final checkout page.
All UK packages are now sent via 1st Class Royal Mail - Signed For / EVRI as standard, or Royal Mail 'Special Delivery' if you have specified this on the checkout page.
Any items going overseas are sent via 'International Tracked', or you can upgrade to 'Express Courier'.
Postage costs start at 2.95 GBP for UK small tracked packages, or FREE if your order is over £100!
How long do we take to deliver?
If you order before 1pm (GMT) then your package will usually be sent out the same day via Royal Mail, unless it is a large package, which will sent via courier that pick up from us the next working day.
Average delivery times:
- UK - 1-3 working days (1-2 working days via Special Delivery).
- Europe (EU) - 5-15 working days.
- Europe (Non EU) - 5-15 working days.
- USA & Canada - 5-10 working days (sometimes longer if you have a rural location).
- Australia & New Zealand - 5-10 working days (sometimes longer if you have a rural location).
- Rest of the World - 5-35 working days.
- EXPRESS COURIER ORDERS CAN BE DELIVERED ANYWHERE IN THE WORLD BETWEEN 2-5 DAYS, SO IF YOU UPGRADE YOUR SERVICE YOU WILL GET YOUR ITEMS QUICKER.
Please note we are closed during UK public holidays and no mail will be sent.
UK Public Holidays 2023:
The following dates there will be no postal services from us and our office will be closed:

- Monday 25th December to Tuesday 26th December 2023 (Christmas).