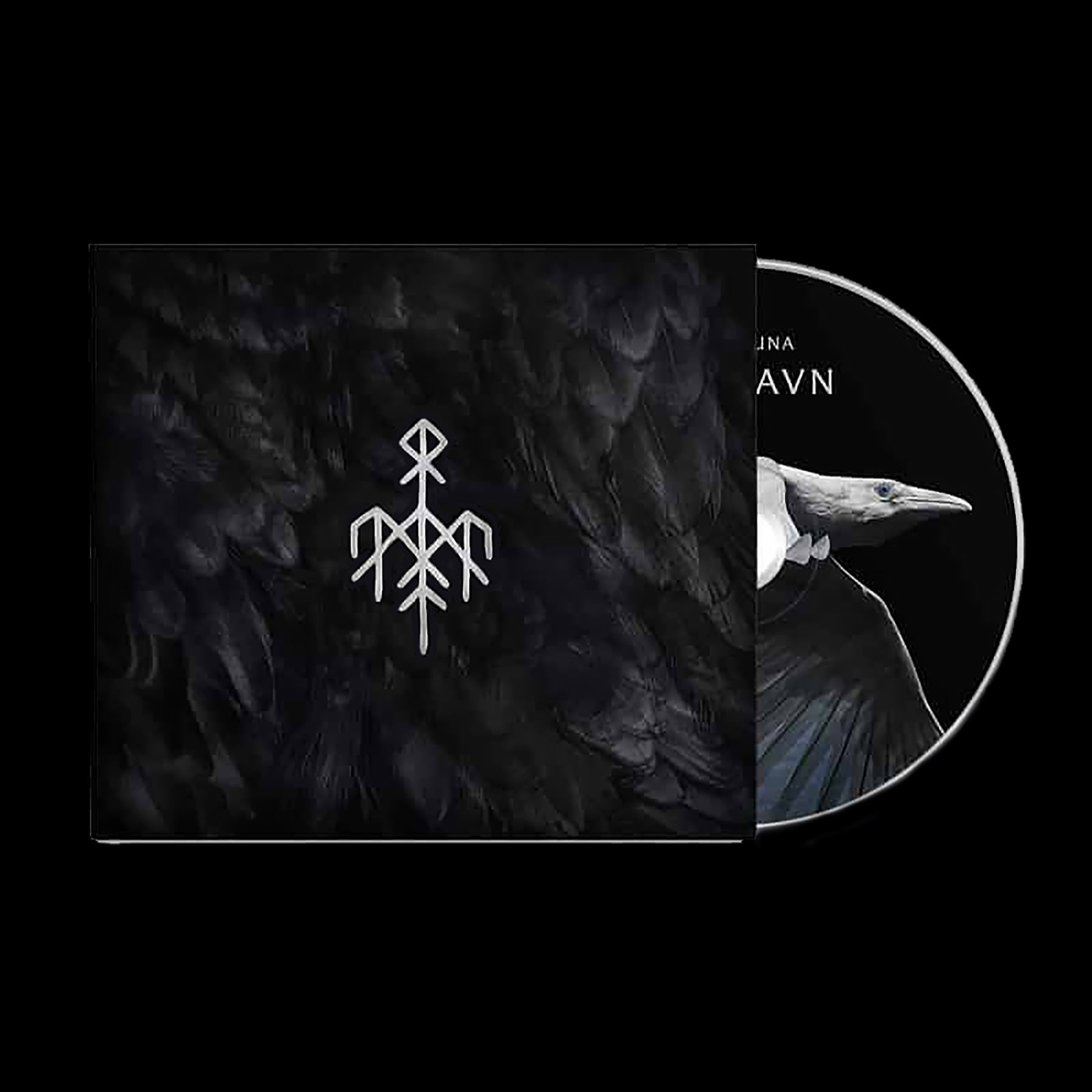 Kvitravn CD By Wardruna
Pickup currently unavailable at Tower House
Tower House
Pickup currently unavailable
Tower House Business Centre, Fishergate
Jelling Dragon Ltd
York YO10 4UA
United Kingdom
+447892872688
Kvitravn is Wardruna's Fifth Full-Length Release, Presented as an 11 Track CD.
The album title translates into English as ​'white raven', a creature with which Einar feels a special connection and considers to be his ​'artist name'. He approaches everything that Wardruna does with uncompromising accuracy and dedication – whether he's making ancient instruments from hides and bones, or spending days in the wilderness to prepare for songwriting – and with a scholarly level of detail. As a result, there is much to explore thematically on Kvitravn, from the lyrics that are rooted in oral storytelling to the historical and mythological references throughout, like album closer Andvevarljod's plea to the Norns, the female deities of Norse mythology who govern fate. But you don't need to be a scholar or even a Norwegian speaker to experience the emotive power of Wardruna – all that authenticity just transfers into the music to make it more magical. 
Release date: 22 January 2021.
11 track CD from the world famous Wardruna:
Kvitravn
1. Synkverv.
2. Kvitravn.
3. Skugge.
4. Grá.
5. Fylgjutal.
6. Munin.
7. Kvit hjort.
8. Viseveiding.
9. Ni.
10. Vindavlarljod.
11. Andvevarljod
About the new album, Wardruna founder Einar Selvik reveals, 'To recite and copy the past is not very difficult, but to understand and integrate ancient thoughts, tools and methods with real purpose into a creation that is relevant to the modern era is truly challenging and remains our prime goal in our work'; He continues, 'although the album carries a variant of my own totemic artist name, it has, in this context, little to do with me but rather refers to the symbolism and legends of sacred white animals found in Nordic and other cultures all over the world. These highly regarded ghostly creatures, whether a raven, snake, bear, moose, reindeer, elephant or lion - are in animist traditions seen as prophetic, divine messengers, and guardians representing renewal, purity and a bridge between worlds'.
Shipping Costs & Shipping Times from The Viking Dragon.
Shipping Costs?
All of our shipping costs are based on the weight and the size of your package and are calculated on the final checkout page.
All UK packages are now sent via 1st Class Royal Mail - Signed For / EVRI as standard, or Royal Mail 'Special Delivery' if you have specified this on the checkout page.
Any items going overseas are sent via 'International Tracked', or you can upgrade to 'Express Courier'.
Postage costs start at 2.95 GBP for UK small tracked packages, or FREE if your order is over £100!
How long do we take to deliver?
If you order before 1pm (GMT) then your package will usually be sent out the same day via Royal Mail, unless it is a large package, which will sent via courier that pick up from us the next working day.
Average delivery times:
- UK - 1-3 working days (1-2 working days via Special Delivery).
- Europe (EU) - 5-15 working days.
- Europe (Non EU) - 5-15 working days.
- USA & Canada - 5-10 working days (sometimes longer if you have a rural location).
- Australia & New Zealand - 5-10 working days (sometimes longer if you have a rural location).
- Rest of the World - 5-35 working days.
- EXPRESS COURIER ORDERS CAN BE DELIVERED ANYWHERE IN THE WORLD BETWEEN 2-5 DAYS, SO IF YOU UPGRADE YOUR SERVICE YOU WILL GET YOUR ITEMS QUICKER.
Please note we are closed during UK public holidays and no mail will be sent.
UK Public Holidays 2023:
The following dates there will be no postal services from us and our office will be closed:

- Monday 25th December to Tuesday 26th December 2023 (Christmas).