Viking Festivals & Viking Markets 2021
2021 Viking Festivals in Scandinavia and Northern Europe - including Norwegian, Swedish, Danish, Icelandic, Dutch, German, Finnish, Irish and UK Viking Festivals.
Due to COVID-19 many events are still cancelled for 2021 but we are working to see if any events are still going ahead and will list them here. If you know of, or are organising an event, then please leave a comment on this page and we will list your event here.
April / May 2021
Ribe International Viking Market 2021 - Denmark
30th April to 2nd May 2021 (3 Days)
1300 years ago, in Viking Age Ribe, the market place by Ribe River was an exciting and tremendously important place. Vikings and other good people came from far and wide to trade and exchange goods right here. The market was known throughout the world, and as it attracted very skilled craftsmen the place buzzed with life. And that's how Ribe was born.
At the International Viking Market you can experience the truly authentic market atmosphere. You will be right in the middle of Viking Age Ripa with its smell of smoke, food and horses, and the sounds of many different languages and of Vikings roaring can be heard throughout the site. Strike a good bargain at the stalls, meet the Icelandic horses, try your aim at archery, and watch the wild battle shows.
TAKE ME THERE
---
June 2021
Viking Festival at Avaldsnes 2021 - Norway
11th to 13th June (3 Days)
The Viking Festival, Avaldsnes has become the biggest Viking Festival at the West Coast of Norway. The Viking Farm will  be populated by more than 200 Vikings from all over Europe, living in their tents. The Viking Festival takes place at The Viking Farm, a 15. minutes walk from the Nordvegen History Centre and St. Olav church.
Vikings with lovely crafts will be selling their goods and there will be food for sale to tempt your taste spuds. Angry Vikings are fighting in the theater to the audience's excitement. You can also experience other entertainers, such as storytellers and music for your senses. You can also actively participate in archery, horseback riding, workshops and so on.
---
July 2021
Haithabu Viking Summer Market July 2021 - Germany
15th to 18th July 2021 (4 days)
Viking craftsmen and merchants are coming back to the former trade metropolis at the Schlei Fjord. Viking age crafts and trading goods are crucial elements of our market days.
Our reenactors, craftsmen and goods come from all over Europe, from high Scandinavia to the deep Baltic region. Authentic crafts in authentic atmosphere, this is the goal of the summer market in Germany's only viking museum.
Meet the vikings – here in Hedeby, where they lived, worked and traded their goods 1000 years ago. Let them take you back into times, where crafts and trading had its high times, and where skills were needed, that today hardly anybody knows.
From precious jewellery to fine fur, all those things from many countries and cultures are going to be traded or produced on the market.
Many finds from the viking age are definitely not from this region. They were traded to our coasts, and this is the way we do it nowadays as well.
Find out how a nail is produced, a bed is built, which weapons and armor the vikings carried. There is so much to discover on the market.
The smell of the blacksmith's fire wafts through the area, people are weaving, dyeing, sewing, making iron, building chains, doing wood turning, carving; Shoes are sewn and stone is worked, Bows are built and nets are formed – here craft is given a new life! Authentic goods are made with authentic tools and materials.
TAKE ME THERE
---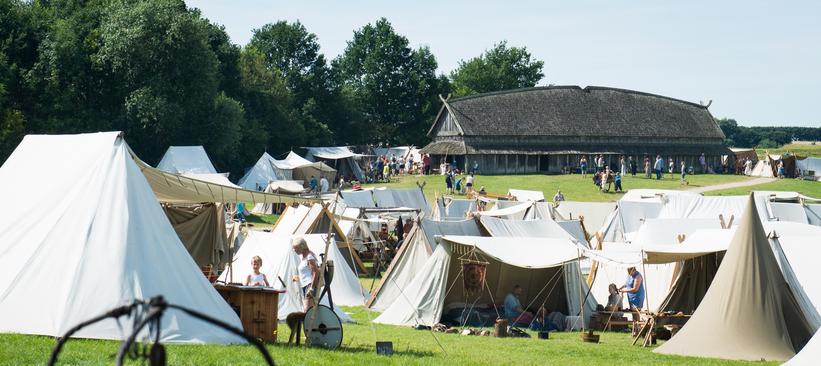 Trelleborg Viking Festival July 2021 - Denmark
17th to 25th July 2021 (9 days)
Trelleborg Viking Fortress
One of the places where the Viking Age can be experienced close at hand is the Viking fortress of Trelleborg, near Slagelse in West Zealand. The impressive remains of one of the Vikings' great ring fortresses were originally constructed around AD 980 by King Harald Bluetooth and are located in the beautiful area of Tude ådal. The museum at Trelleborg includes models, archaeological finds and reconstructions that give a vivid impression of Trelleborg's history, its inhabitants and the function of the fortress.
Meet and mingle with the Vikings.
Experience the lives of the Vikings up close, at the reconstructed village of Slagløse.
Plan your visit and check what's on. During Holidays, Trelleborg offers visitors a wealth of activities, displays and events. Try the crafts and daily tasks of the Vikings yourself! You can bake flat bread, fire a Viking longbow, paint a shield or a sword, carve your name with ancient viking runes or cast jewellery made of tin.
TAKE ME THERE
---
August / September 2021
Largs Viking Festival 2021 - Scotland, UK
28th August to 5th September 2021 (9 Days)
Started in 1980 this Annual Festival marks the 1263 Battle of Largs, the last mainland battle between the Scots and Norse.
Each year the living history Viking Village is open to the public so that they can get a glimpse of what life would have been like in a 13th Century Viking Village.
Come and talk to them about their way of life; learn about how they made their clothes, weapons, jewellery and food. Ask the Vikings about their religion, beliefs, homes, crafts, ships, their homeland and why they left it…
---